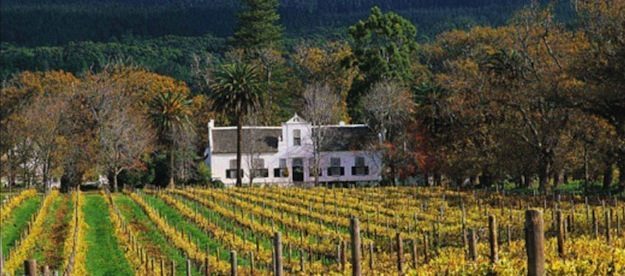 Groot Constantia
Dating back to 1685, Groot Constantia is the oldest winemaking region in the southern hemisphere. Constantia Valley is today the Cape's most intimate wine route consisting of eight wine farms, each with their own distinctive heritage and premium wines. Enjoyed by Napoleon Bonaparte and royalty in the 18th century, Constantia Valley's unique combination of terroir and climate produces some of the world's finest wines that continue to this day to win accolades and international awards for consistently high standard and quality.
Steenberg
Steenberg is the oldest farm in the picturesque Constantia Valley, which is generally considered to be South Africa's premier wine growing region. With its cool, sea-facing slopes and majestic granite ridges, this vineyard has developed a worldwide reputation for producing excellent award winning wines. The estate boasts a state of the art modern winery, a luxurious hotel, top quality restaurants, Bistro Sixteen82 and Catharina's, a tranquil and spacious spa, a championship 18-hole golf course and beautiful homes.
Dieu Donne
Dieu Donne is situated high on the steep southwest facing slopes of the Franschhoek Mountains, encouraging a cool climate and combined with the rocky soils of weathered granite, a unique terroir has been created. Taste unique wines or enjoy a fabulous top quality meal at Roca Restaurant that boasts some of the most beautiful views in Franschhoek.
Grande Provance
Grande province is nestled with the Franschhoek valley, surrounded by 47-acres of lush vines, this is heartland South African wine country at its best. The Estate is home to Grande Provence's award-winning wines and its passionate wine making team. Following harvest every year, carefully selected wines leave the Estate to compete in some of the world's most prestigious competitions – the number and frequency of the awards bears testament to their success.
A sophisticated destination in its own right, Grande Provence proudly presents superb cuisine at The Restaurant, fine wines at The Tasting Room, some of South Africa's finest art at The Gallery & The Shop, receptions and boutique conferences at The Jonkershuis and 5-star accommodation at The Owner's Cottage.
La Motte
In 1695, a piece of land in the Franschhoek Valley was granted to German immigrant, Hans Hattingh. In 1709 the land was purchased by French Huguenot Pierre Joubert, who is believed to have named it after the village of his birth in Provence – La Motte d'Aigues. Viticulture on La Motte was established in 1752 with the planting of 4 000 vines by Huguenot descendant Gabriël du Toit.
In 1970 the farm was bought by Dr. Anton Rupert and a major development, restoration and conservation programme followed, which reinvented La Motte into a leading global wine producer and sought-after tourist destination. Vineyards have been progressively replanted with noble varieties, the latest viticultural practices have been introduced and a modern cellar has been built.
Today, La Motte Wine Estate is operated under the guidance of owner Hanneli Rupert-Koegelenberg and her husband Hein Koegelenberg, Chief Executive Officer of the estate.
Haute Cabrière
Comprised of two farms, situated on opposite ends of the breathtaking Franschhoek Wine Valley, Haute Cabrière is something extraordinary. A rich history, a whimsical setting, a seductive approach to wine and a magnetic proprietor ensure that it is a decadent affair for any visitor. The core belief that wine is grown not made makes the farm's ethos incredibly real and intrinsically human. Wine is more than what is in the bottle and it is considered an exceptionally intimate experience. This seductive conviction is intertwined with the farm's ultimate philosophy that wine is bigger than one, it's the combination of four factors: Sun, Soil, Vine, Man.